Like the rest of the world, Red Door Church has been impacted by COVID-19. This page seeks to talk a little bit about what have we been doing to adjust.
The video below chronicles our story about what we have been doing during COVID and below that you can find a few blurbs on how we've been seeking to manage this pandemic.
Outdoor services. We met outside under a large tent that we purchased for a couple of months (August and September of 2020). We are back in our building now.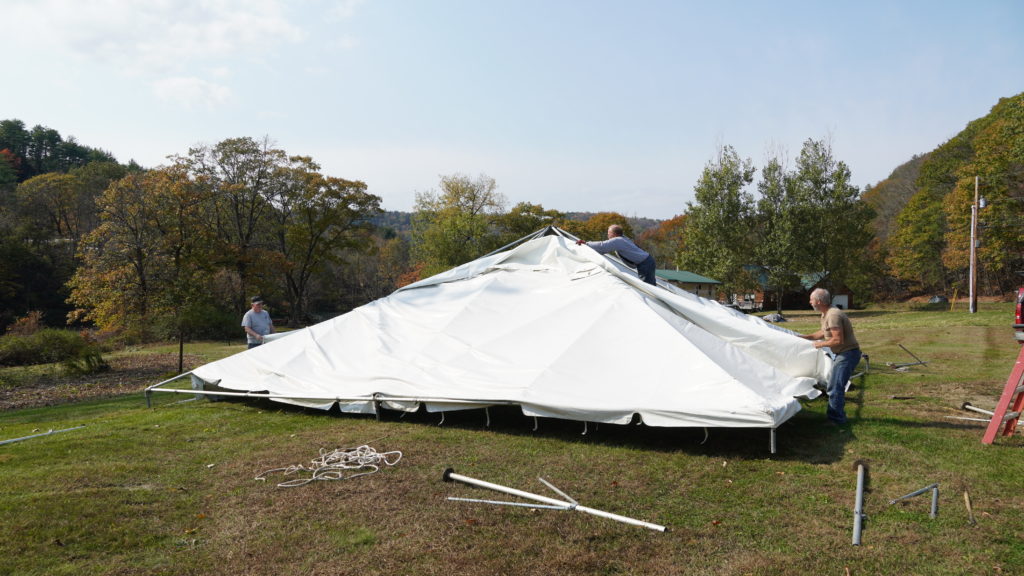 Online worship. We have been broadcasting our services online via Facebook every week. The services are also uploaded to YouTube later that same day. You can watch them here on our YouTube channel.
Online Children's Teaching. Because we have been unable to have a "normal" in person children's ministry the last several months we have begun uploading videos each week to our YouTube channel for our young families to enjoy. Several weeks ago we started a series on the Ten Commandments which you can check out here.
Improving our facilities. Over the last several months we've done a number of small projects at our building to improve it. We've had the floors waxed, repaired picnic tables, painted walls and doors in our fellowship hall, installed automatic hand-sanitizing machines, washed our windows, and more. We've also installed a large walk-in size cooler at the food shelf property which we own and manage.
Meetings over Zoom. The deacons have been virtually over Zoom each month and we've even managed to hold a successful congregation-wide meeting online as well! Near the beginning of the COVID-19 outbreak we held a number of prayer meetings via Zoom.
Making Masks for Our Community. A handful of people in our congregation have been making masks for our community all throughout the pandemic. Many of them have been donated to the Food Shelf, our church, or to the Senior Center.
Continuing to Operate the Food Shelf. Our food shelf has been as staple for our community throughout this entire crisis–literally helping hundreds of people every month who are struggling with hunger.
Writing. Our pastor has been writing a little on the pandemic as well, seeking to offer a gospel perspective. You can check out some of his more recent blog entries here:
Washing Your Hands Isn't Enough